YOU ARE WELCOME HERE!
Join us for service LIVE or In Person every Sunday at 10 am
Call Us!: 310.372.3587
Catch one of three Christmas Eve services that we will hold! Beginning at 10am, 5pm, and 8pm. Each service being unique!
10AM: Enjoy our regular service!

5PM: A Family Christmas Service! Including several performances by MBCC kids. A nativity scene will be created and lots of Christmas hymns will be sung.
8PM: A Formal Christmas Eve Service! A joyful yet reflective service weaves Christmas readings with carols, choral anthems, and special music to evoke the wonder of this holy night.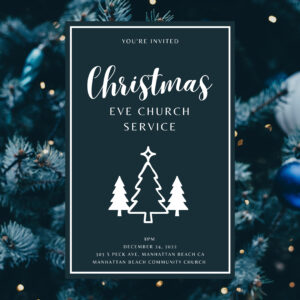 The Giving Tree has been a part of our outreach efforts for many years. We now have a list of family members from 10 families so that we may provide Christmas gifts. It is an annual event as part of our partnership with 1736 Crisis Center. Providing gifts for families who otherwise may not have a Christmas. To sign up, go to Sign Up Genius and click on the link and follow the instructions. If you have questions, contact DeAnne Johnson Djohnson1023@gmail.com or the Church's office.
https://www.signupgenius.com/go/70A0B4BACAC2CA3FD0-17361
Welcome to MBCC! Our Children's Spiritual Formation program builds a foundation of Christian values our young people can take with them for life. To have your children participate in our program please fill out this short registration form.
forms.gle/WE1JKu6ZBB5PM7G37
Children and youth begin their Sunday experience in worship. Following the Time with Children, PreK – 8th Graders are escorted to the Sunday School and Worship Arts Program while high schoolers remain in the service. Please pick up your preschooler – 3rd grader from their Sunday School class immediately after the worship service. Children's activity bags are available in the narthex (church foyer), and there is a family lounge for restless little ones. A state-of-the-art nursery is coming soon.

During the season of Advent, when we prepare for the birth of a homeless baby born to a refugee family, we have the opportunity to support mothers and infants in need in our community. We are collecting diapers to benefit the non-profit organization Community's Child in Lomita, California. Community's Child provides shelter, food, clothing, and other support to single women over the age of 18 with at least 1 child under 12 months old. You will find the diaper donation bin in the Narthex entryway. Questions? Contact Kim Binegar at kbinegar@verizon.net.
2023 Highlights
Chrismon Decorations
Veteran's Day
Kid's Halloween Party
Manhattan Beach Hometown Fair
Solidarity Sunday
Youth & Family BONDfire
Homecoming
Long Beach Pride Parade
Mother's Day
Upcoming Events
* Events with asterisks are hosted by other community members or organizations
Contact Us
We'd love to hear from you! Contact us below and our team will be in touch with you!
Office Hours:
Monday - Fridays
9am - 3pm